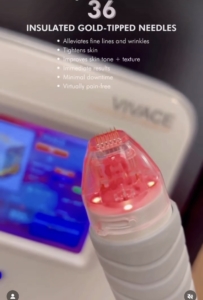 Vivace Radiofrequency (RF) is a minimally-invasive, FDA-cleared treatment that stimulates the natural production of collagen. Vivace RF treatment is a step up from traditional Microneedling treatment. Vivace allows for a more accurate needle insertion for highly customized treatment. It is an ideal treatment for tightening and firming the skin and to improve debilitating acne scars and stretch marks.
One of our favorite treatments with this device is non-surgical eyelid lifting and tightening. It also helps to improve eye bags and skin laxity underneath the eye area. The red LED light stimulates collagen and blue LED light is used in patients suffering from acne to kill bacteria and it also improves acne scars.
The Vivace RF Mironeedling device was built to improve contouring and tightening for the face, neck, hands and body.
The Vivace device features gold plated steel micro-pins that are able to penetrate deeper into the skin for even better results than traditional microneedling. These longer needles allow the RF energy to be administered at different depths, depending on your specific needs. The RF energy heats up the underlying tissue to kick-start collagen production. The results are amazing with minimal downtime.
The actual treatment session takes less than an hour and most patients report little to no pain. A compounded topical numbing cream is applied to the face prior to the procedure. After the procedure is done, PRP (Platelet rich plasma) that is derived from your own blood can be applied topically as well. PRP contains growth factors which can help to reduce wrinkles, plump up sagging skin, improve complexion and minimize acne scarring.
Vivace produces microchannels in the skin that allows to fully absorb healing serums. These channels stay open for few hours so we ask that you avoid make-up as well strenuous activity, swimming, and steam rooms/saunas during this time. After this time frame you're good to go!
We recommend a series of three treatments spaced four to six weeks apart for the best possible results.
https://www.brandywinemedspa.com/wp-content/uploads/2018/07/BrandywineMedSpa-01-01.png
0
0
Office Staff
https://www.brandywinemedspa.com/wp-content/uploads/2018/07/BrandywineMedSpa-01-01.png
Office Staff
2023-01-05 20:18:12
2023-01-05 20:34:46
Vivace Radiofréquency Microneedling