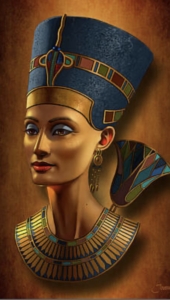 Nefertiti lift can help reverse the signs of aging by providing temporary smoothing and definition along your lower face, jaw, and neck.  Nefertiti lift is a temporary way to restore a youthful look without surgery.
The procedure's name refers to the ancient Egyptian Queen Nefertiti, known for her elongated, thin neck. The Nefertiti lift targets the platysma band of muscles that run vertically from the bottom of the face to your collar bone.
The botulinum toxin like Botox or Dysport etc is injected in specific parts of this muscle to:
 

lessen lines around the bottom part of the face

 

erase or reduce folds or sagging of the lower part of the neck

 

remove lines on the neck

 

create a more pronounced definition of the jaw
It takes about 15 minutes to do the procedure and it can be performed in the outpatient setting.
Its important to know that the use of botulinum toxin in the platysma is considered off-label. This means it hasn't been reviewed or approved by the Food and Drug Administration (FDA) for this indication.
This procedure doesn't fix signs of aging permanently. The results of a Nefertiti lift only last a few months to half a year.
Some people may not be ideal candidates for Nefertiti lift. These include those:
who are pregnant or breast feeding.

diagnosed with or who have a family history of certain health conditions like myasthenia gravis or Eaton-Lambert syndrome or have an infection.

taking any medications or drugs that aren't compatible with botulinum toxin

with certain psychological condition.
There are some side effects of the Nefertiti lift, similar to other cosmetic procedures involving botulinum toxin. These include bruising or redness at the injection site, headache, difficulty swallowing and weakness in the neck.
A 2007 study found that the Nefertiti lift was an effective, minimally invasive alternative for those wanting to push back or eliminate more invasive cosmetic procedures.
https://www.brandywinemedspa.com/wp-content/uploads/2018/07/BrandywineMedSpa-01-01.png
0
0
Office Staff
https://www.brandywinemedspa.com/wp-content/uploads/2018/07/BrandywineMedSpa-01-01.png
Office Staff
2023-01-24 02:45:43
2023-01-24 02:49:19
Nefertiti lift